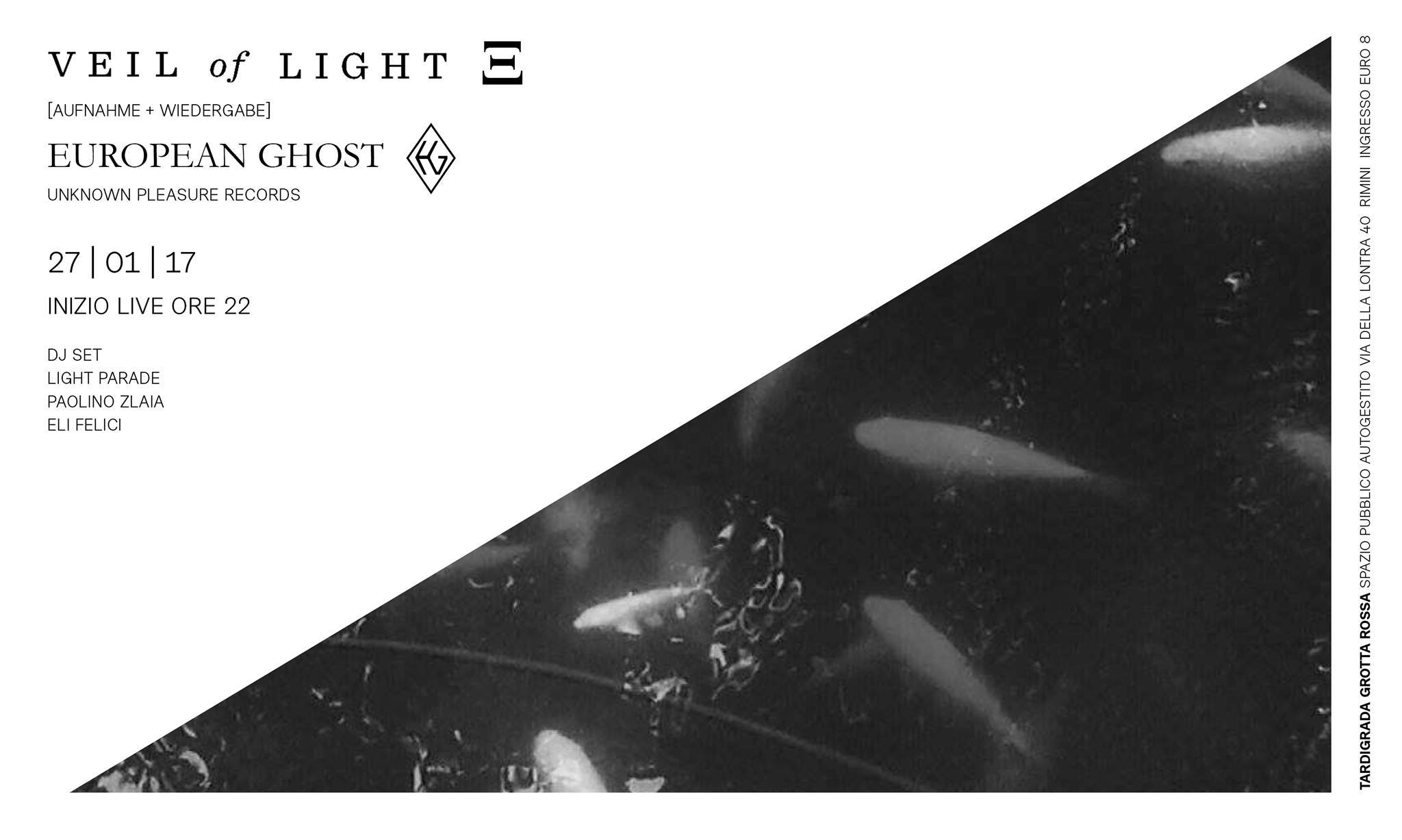 Veil of Light // European Ghost
Venerdì 27 gennaio, ore 22
Evento Facebook: https://www.facebook.com/events/159847654492104/
Veil Of Light 'Ursprung'
[aufnahme + wiedergabe]
Zurich (Switzerland) based Wave / Industrial / Post-Punk outfit Veil Of Light emerged in late 2012. With Veil Of Light, floating layers of synth, reverb drenched guitars, shattering rhythms and gloomy vocals come together to create haunting songs of light in darkness.
italian tour R7 Agency
veiloflight.bandcamp.com
www.youtube.com/channel/UCuLfHqGJ4-2En0Wi6qWl7mg/videos
European Ghost "Pale and Sick"
Unknown Pleasures Records
Kraut music echoes, with, Electro-Darkwave, Post-Punk & drone influences radiate from Bologna with a multi-shaped project, out of any control : European Ghost.
The 6th of May 2016 the French label "Unknown Pleasures Records" released their first LP, "Pale and Sick".
"Pale and Sick" is a concept album: a flight over the European remains from the two world wars. Ten painted dark songs, integrate into New Wave tradition and pushing theirselves limits to a martial and claustrophobic experimentalism.
www.europeanghost.it
hivmusic1.bandcamp.com/album/pale-sick-post-punk-upr-047-compact-disc
lightparade (djset)
PaolinoZlaia Scarponi / Lost in Transmission (djset)
Tardigrada (djset)

ticket 8 euro
(Visited 23 times, 1 visits today)