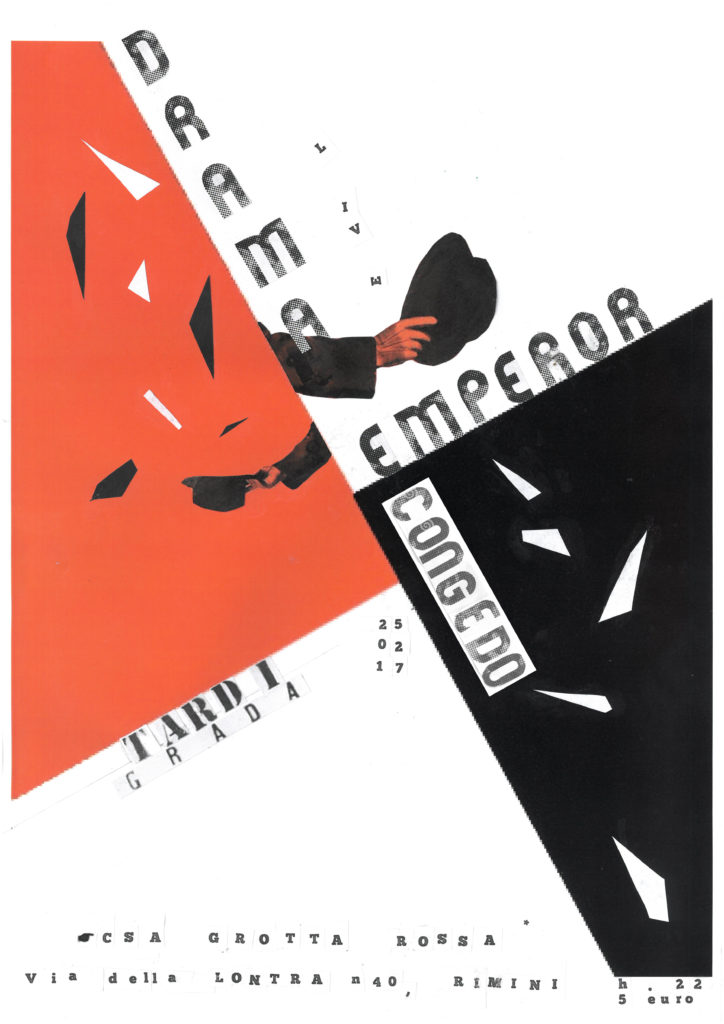 Tardigrada presenta:
Drama Emperor + CONGEDO
Sabato 25 febbraio, ore 19:00
Evento Facebook: https://www.facebook.com/events/1817094218578580/
I DRAMA EMPEROR presentano il loro secondo disco "All Of These Days", uscito il 30 settembre 2016 per l'etichetta Alienated Records.
A tre anni di distanza dal precedente "Paternoster in Betrieb", che aveva ricevuto un notevole riscontro presso la stampa specializzata, la band di Macerata riprende così il discorso interrotto che li aveva fatti notare grazie anche all'amore per una certa elettronica di stampo berlinese.
"All Of These Days" è stato registrato da Michele Caserta al Bunker Studio e mixato da Sid Lamar presso l'Hype Cicle Berlin.
Con il nuovo disco i Drama Emperor arrivano a sonorità più varie rispetto al passato, trovando ampio spazio anche le melodie pur rimanendo ferma la linea di confine tra suoni elettronici e attitudine punk.
I testi si alternano, come per il precedente album, tra tedesco, inglese e italiano.
https://soundcloud.com/dramaemperor
https://youtu.be/QNzhyLP_Z5k
CONGEDO (live) Bologna
Performance elettroacustica nata appositamente per la seconda edizione del 50 hertz festival (RN), incentrata sul concept "In between Mirror & Reflection". La performance è poi maturata in un vero e proprio progetto, che ha visto fondersi in nuove forme le peculiarità ambientali dell'elettronica di Matteo con le inclinazioni teatrali e performative di Jacopo. Attualmente stanno lavorando al loro primo disco, in uscita nel 2017.
Matteo Trevisan: chitarre, synth, effettistica;
Jacopo Buda: voce, tromba, effettistica.
dj set :
Eli Felici (Tardigrada)
Paolo PaolinoZlaia Scarponi / Lost In Transmission
con la partecipazione e il supporto di :
Flux Webzine / Alessandro Flux Violante
Apertura porte e aperitivo dalle ore 19:00
Ingresso 5 €
Evento a cura di :
Tardigrada / Grotta Rossa (Spazio Pubblico Autogestito)
Read More